Climate Training Kit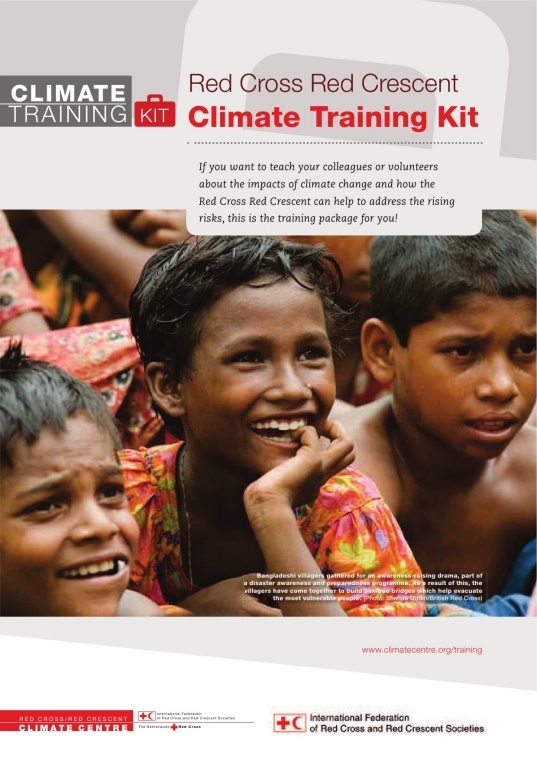 Our Climate Training Kit was created in close collaboration with the IFRC's Department of Community Preparedness and Risk Reduction, with support from the Canadian Red Cross.
It includes contributions from many National Societies around the world and provides a huge range of educational materials to build the capacity of Red Cross Red Crescent Movement staff and volunteers, as well as links to existing IFRC products and guides.
Interactive, flexible learning modules – exercises, games, film clips, presentations, reading materials and case studies – were designed for use, especially, in training workshops on the humanitarian impacts of climate change.
They are also intended to support awareness and participation in dialogue with governments and other stakeholders.
The kit supports National Societies in building the capacity of staff and volunteers to address climate-related risks as well as issues on health and humanitarian diplomacy.
Requests for assistance with using the kit can be emailed to kit@climatecentre.org.

Meanwhile, the IFRC's e-learning course Climate Change – an introduction to Staff and Volunteers" is available online in all five standard languages, along with introductory videos in Arabic, English, French, Russian and Spanish.

The course is designed for smartphones, tablets and desktops and lasts 30 minutes.

First launched in March 2014, the climate course was developed for staff and volunteers with limited knowledge of climate change or none.

It was originally made possible with the support of the Canadian and Norwegian Red Cross, and included input from the Climate Centre.