'DataSculpture' on flood risks
How to engage stakeholders in appreciating the rich complexity of data about climate, disasters and humanitarian work?
At the 2016 Understanding Risk Forum in Venice, the Climate Centre has offered an innovative approach for communicating Forecast-based Financing for disaster preparedness: a set of three DataSculptures on Flood Risks combined art and science to visualize river flow data used by the FbF pilot in Togo to link early warning with pre-funded early action.
This short video shares beauty and layered meanings of the luminous DataSculpture entitled "Go with the Flow?" and displayed at the 'Arsenale' (home of Venice's Art Biennale').
Transparent layers show the amount of water arriving from upstream to the Nangbéto Hydropower Dam on the Mono river in Togo during the period 2005-2015, and blue layers show the water heading downstream from the dam.
Three flood peaks illustrate the value that Forecast-based Financing could bring to vulnerable communities located in the floodplain.
A second, larger DataSculpture made of folded metal showed the flood patters of the same river in Togo but over a longer period (1996-2015), enabling event participants to appreciate the hydrological patterns that allow for flood predictions.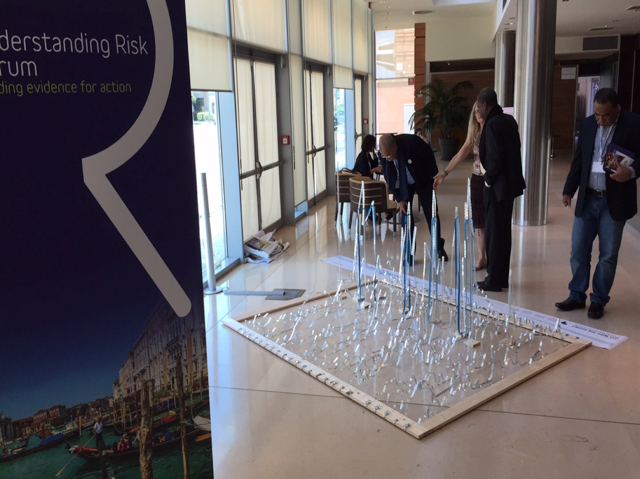 Participants investigate flood patterns in Togo represented in a folded metal DataSculpture
A third DataSculpture piece involved a cylindrical poster totaling 365 centimeters in perimeter (one per day of year), depicting daily values of river flow downstream as well as reservoir level upstream of the dam and rainfall parameters affecting groundwater (past 6 months), soil saturation (past month), and runoff (past week).
When these parameters reach a critical threshold, the risk of flooding downstream can become severe.
This piece illustrates how a key innovation can help save lives and protect livelihoods: FUNES is a self-learning algorithm embedded in a digital tool that supports Forecast-based Financing in regions challenged by data scarcity – particularly relevant for vulnerable communities located in floodplains downstream of hydropower dams.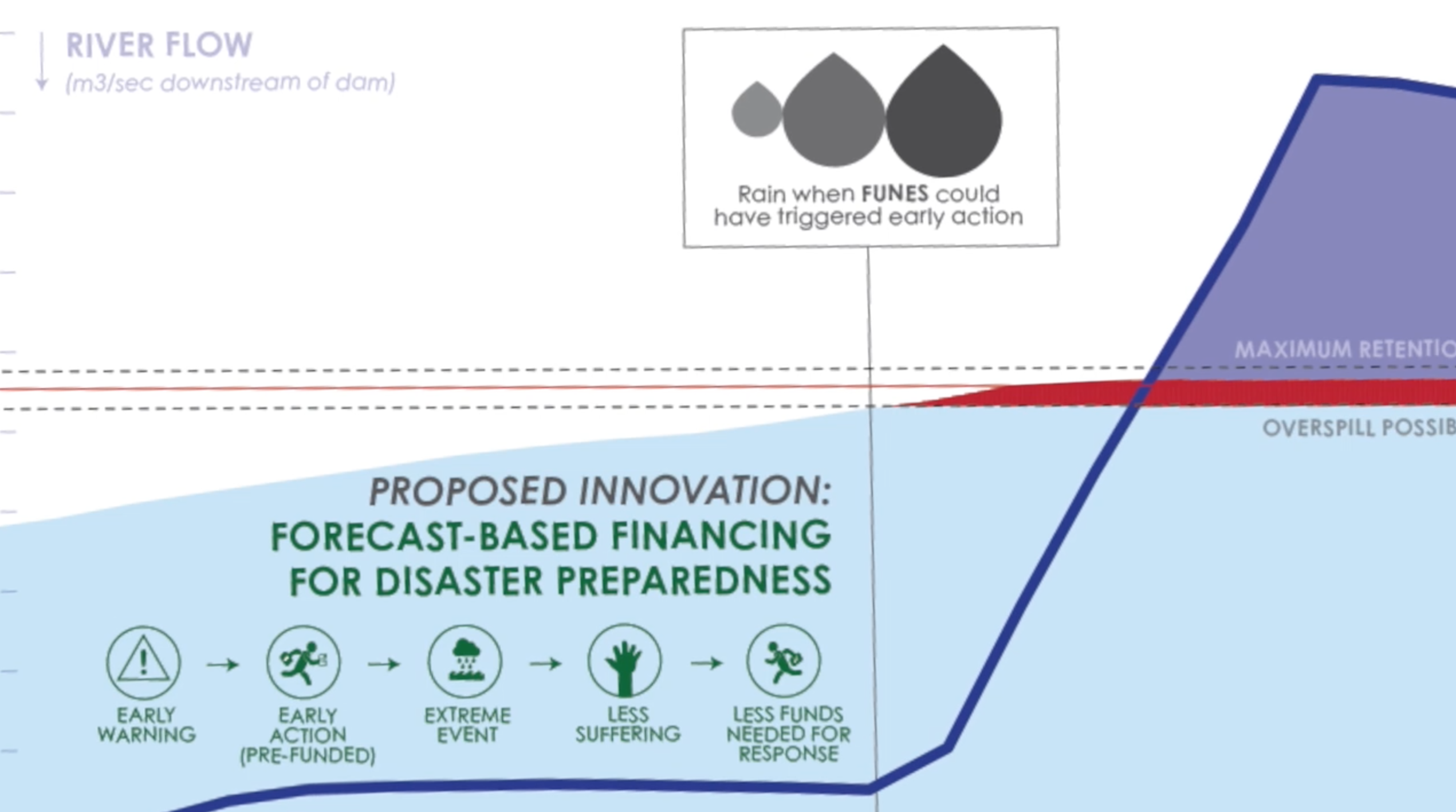 Detail of the cylindrical DataSculpture poster depicting how the FUNES self-learning algorithm can support Forecast-based Financing in Togo.