Working papers & briefs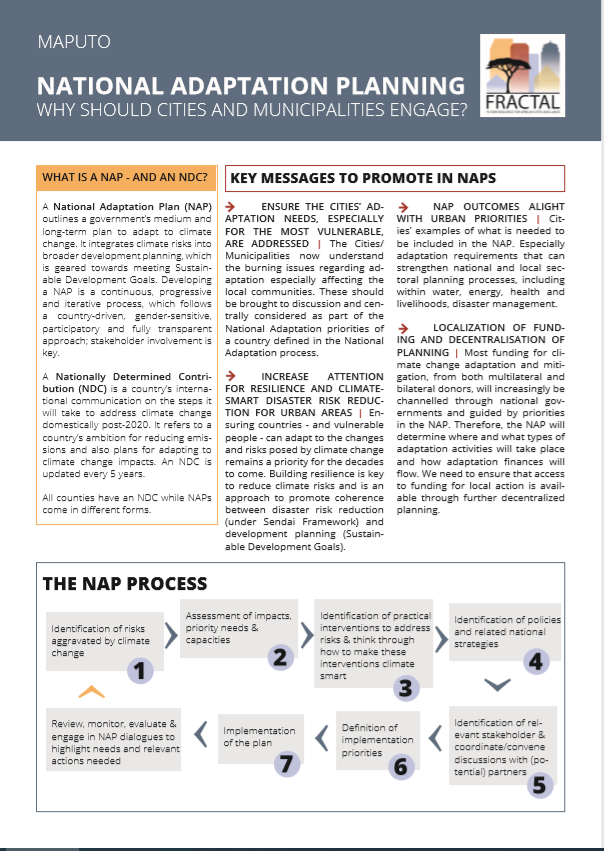 Maputo - National Adaption Planning
May 20, 2020
The Climate Centre working with partners under FRACTAL has led the process of having cities engaged in National Adaptation Planning processes. Many Urban areas are heavily impacted by impacts of Climate Change. Urban perspectives should therefore be a critical consideration as countries raise their ambition through the NAP processes and the NDCs.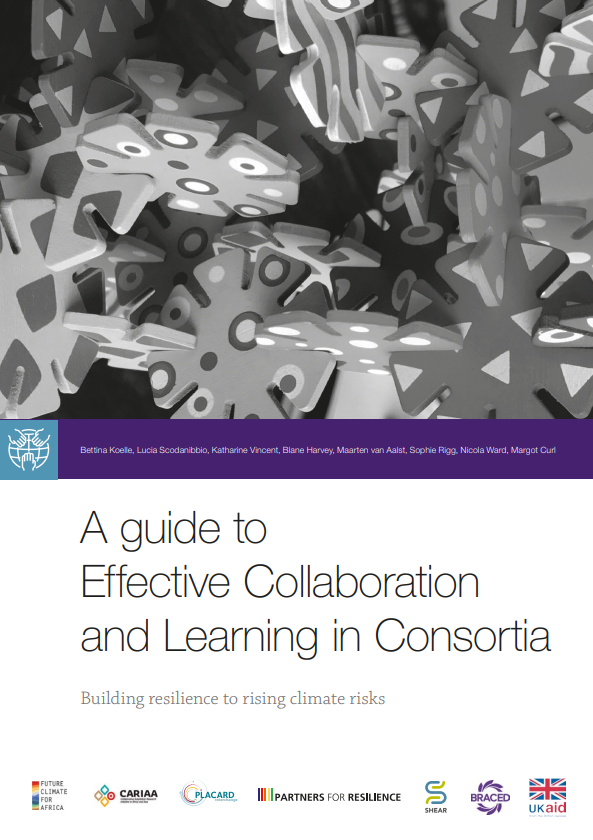 A Guide to Effective Collaboration and Learning in Consortia
September 23, 2019

This guide shares examples and lessons from a range of consortia working in adaptation and resilience, and includes pointers for researchers, practitioners and other stakeholders.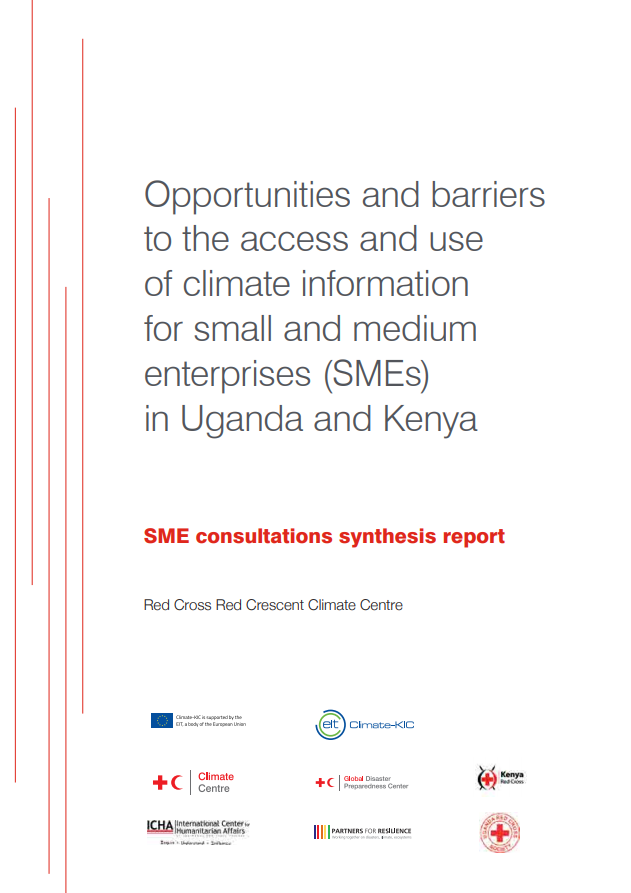 Opportunities and barriers to the access and use of climate information for small and medium enterprises (SMEs) in Uganda and Kenya
September 11, 2019
This report highlights the outcomes of a study to assess the opportunities and barriers to the access and use of climate information for urban small and medium enterprises (SMEs) in Uganda and Kenya.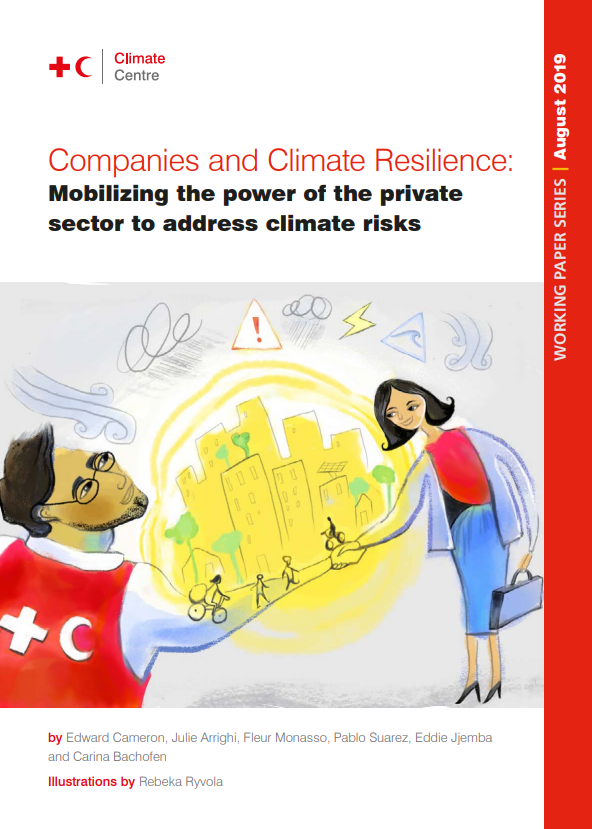 Companies and Climate Resilience: Mobilizing the power of the private sector to address climate risks
August 19, 2019
The innovations, investments, products and services, and political influence of corporations, large and small, are essential for enhancing the resilience of marginalized and vulnerable communities across the world in the face of climate variability and weather extremes. This paper explains these linkages and the opportunities of collaborating with the private sector.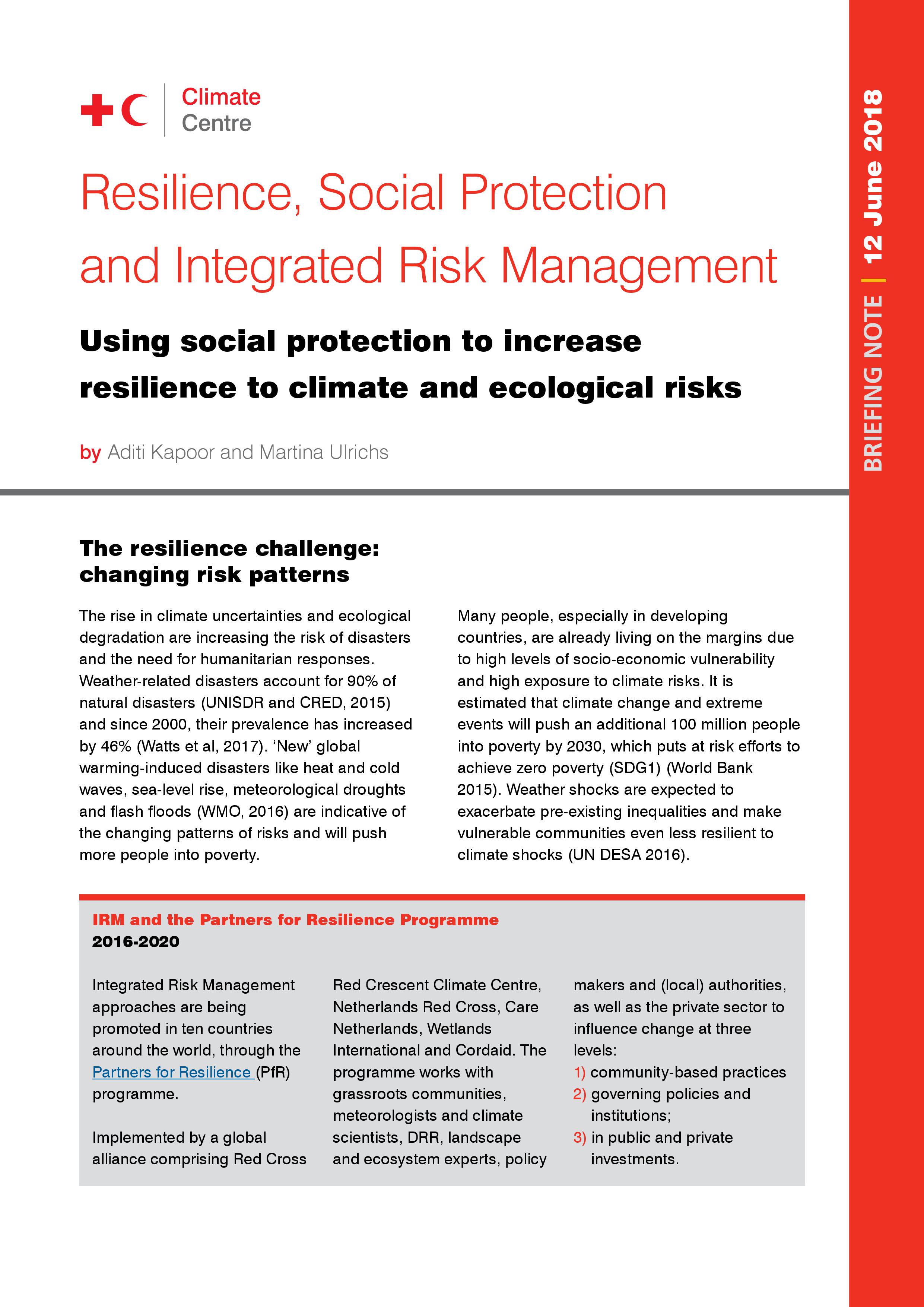 Resilience, Social Protection and Integrated Risk Management
June 18, 2018
This briefing note explains how social protection programmes that benefit individuals and households can complement community-based integrated risk manamagent approaches.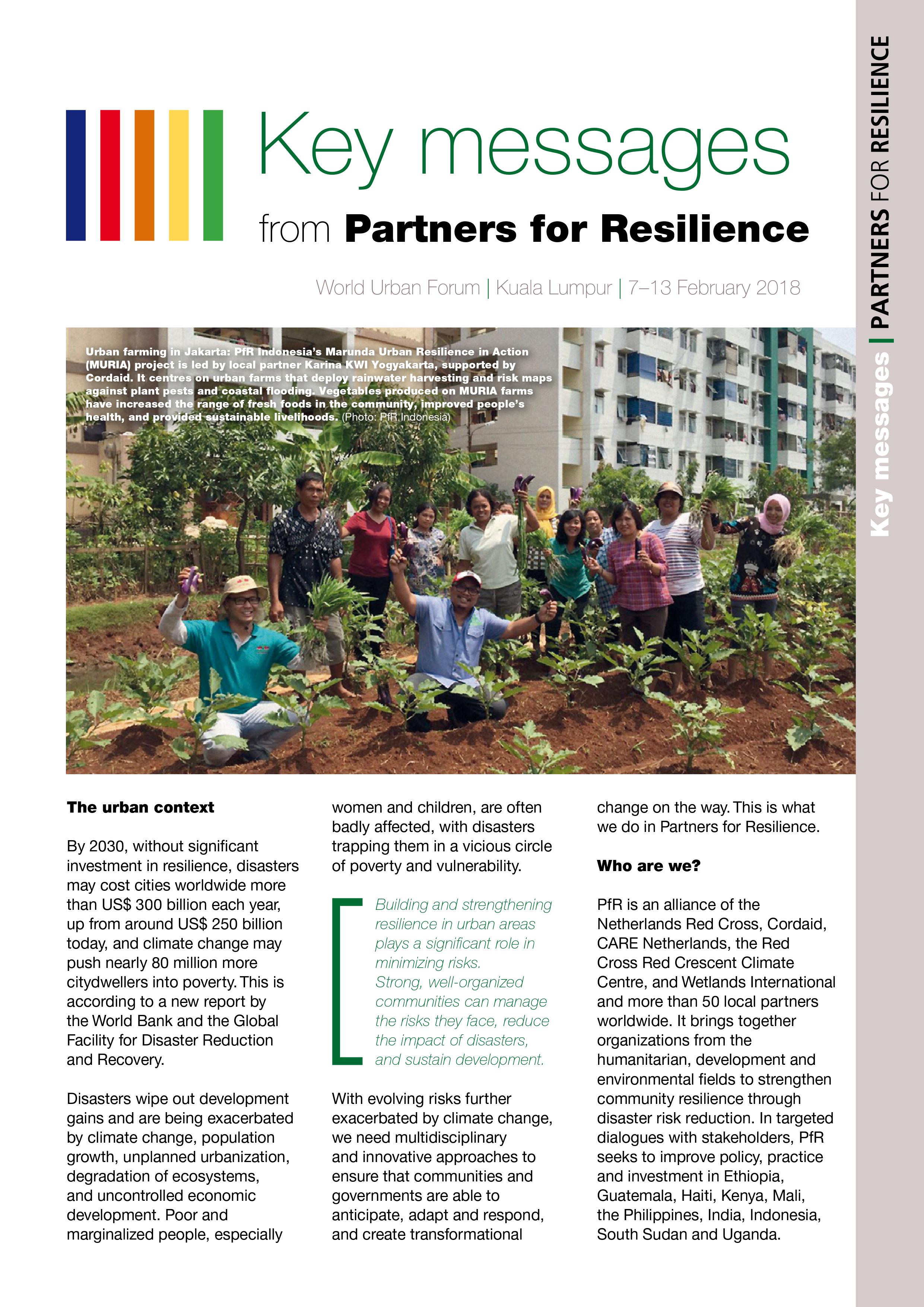 Key messages from Partners for Resilience - World Urban Forum 2018
February 7, 2018
In this policy brief for the 9th session of the World Urban Forum in Kuala Lumpur, PfR argues that strengthening resilience in urban areas plays a significant role in minimizing risks. Strong, well-organized communities can manage the risks they face.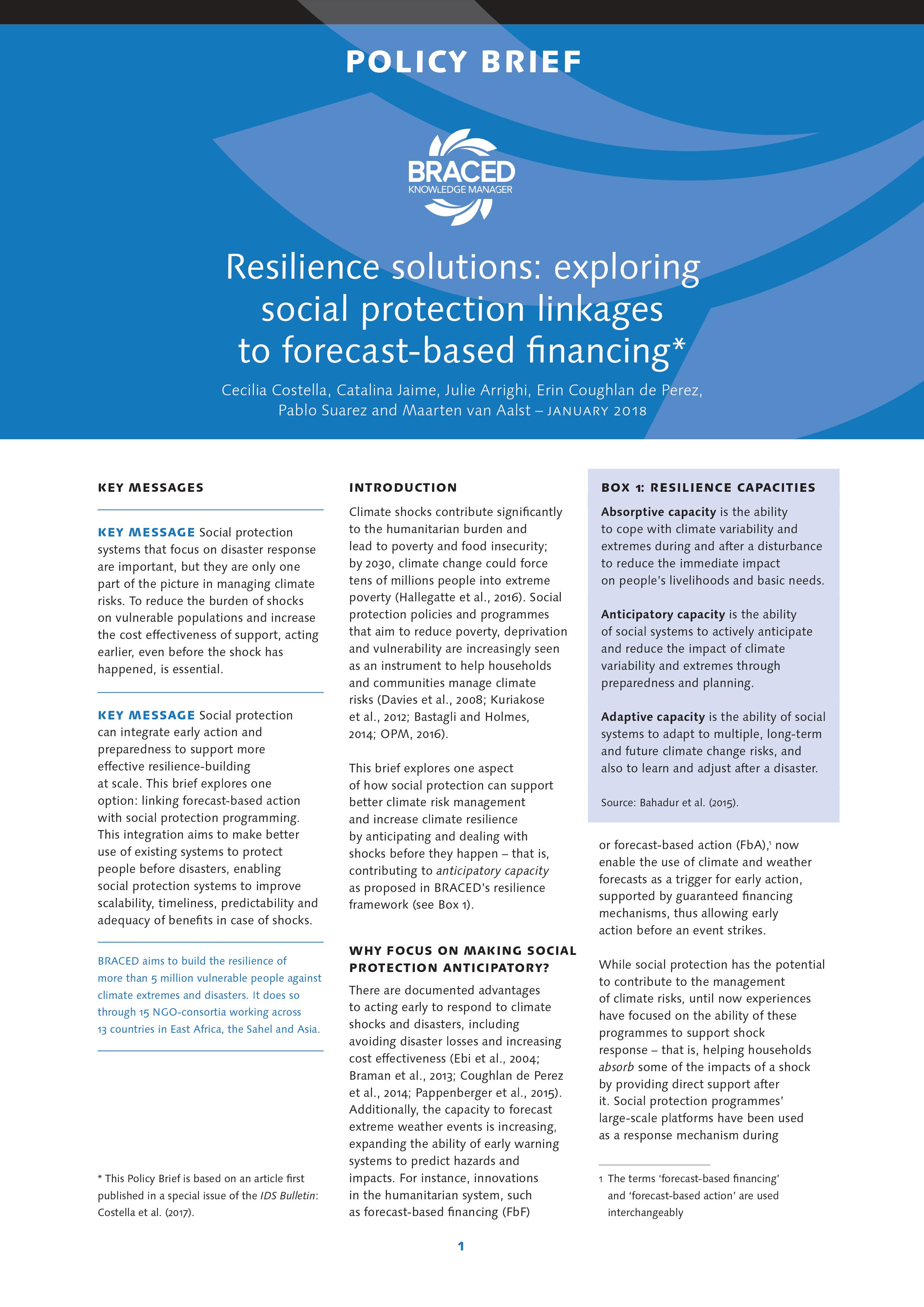 Resilience solutions: exploring social protection linkages to forecast-based financing
January 8, 2018
This brief explores how social protection can support climate-risk management and resilience by addressing shocks before they happen, including by contributing to the resilience framework proposed in the BRACED programme.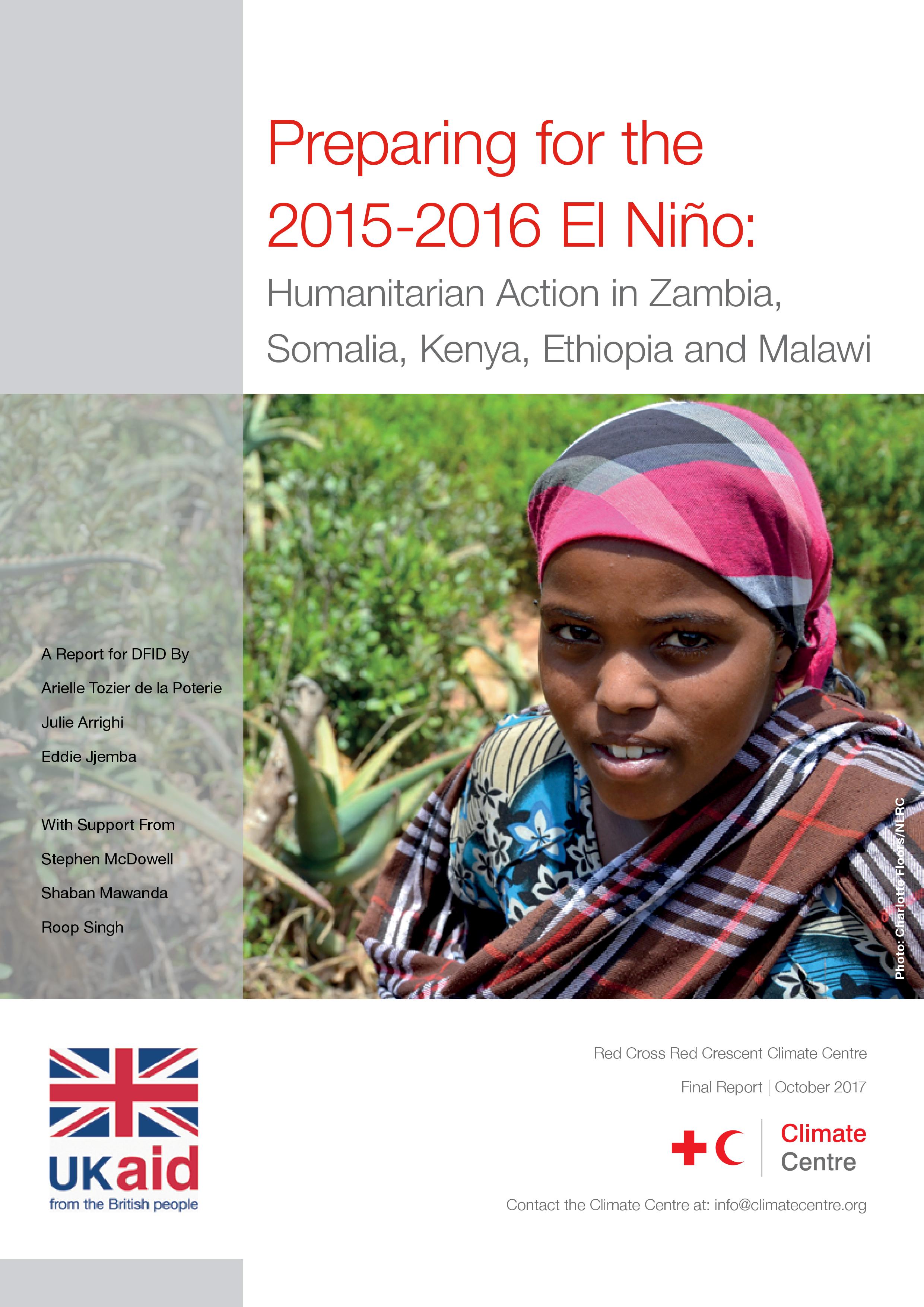 Preparing for the 2015-2016 El Niño
November 5, 2017
The Climate Centre study of humanitarian perparedness for the 2015-2016 El Niño in Ethiopia, Kenya, Malawi, Somalia and Zambia finds that messaging and forecast were timely and credible.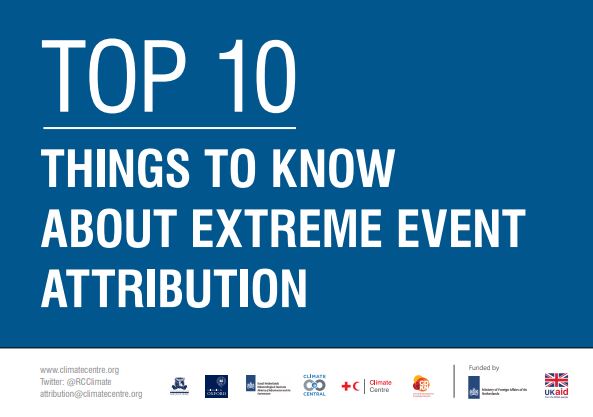 Top 10 - Things to know about extreme event attribution
March, 2017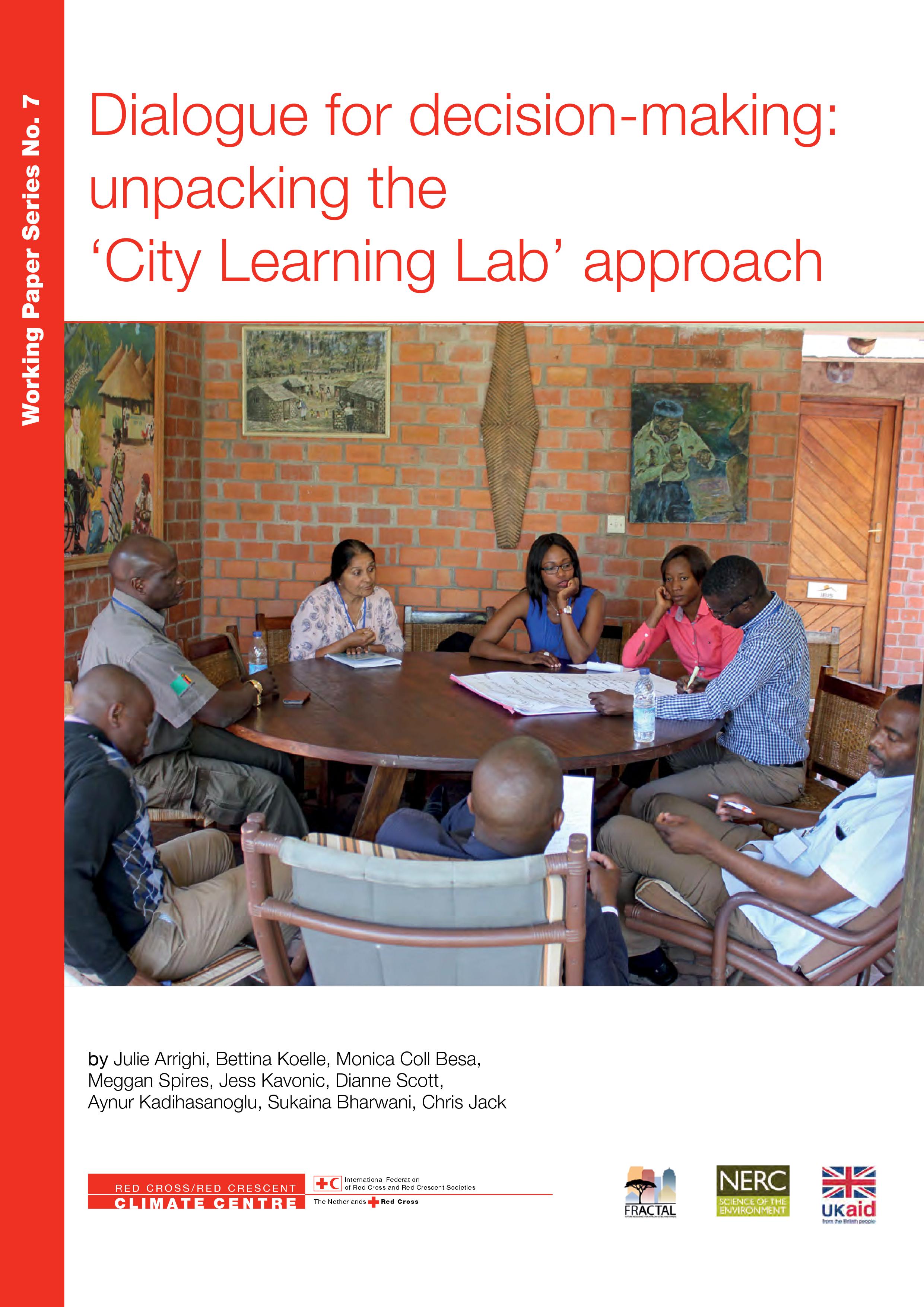 Dialogue for decision-making: unpacking the 'City Learning Lab' approach
December 23, 2016
This paper presents the
City Learning Lab
approach for inclusive decision-making at a city level. This paper was developed by partners in the Future Resilience for African Cities and Land (FRACTAL) project, a Future Climate For Africa consortium funded by DFID and NERC, focused on seven cities in Southern Africa.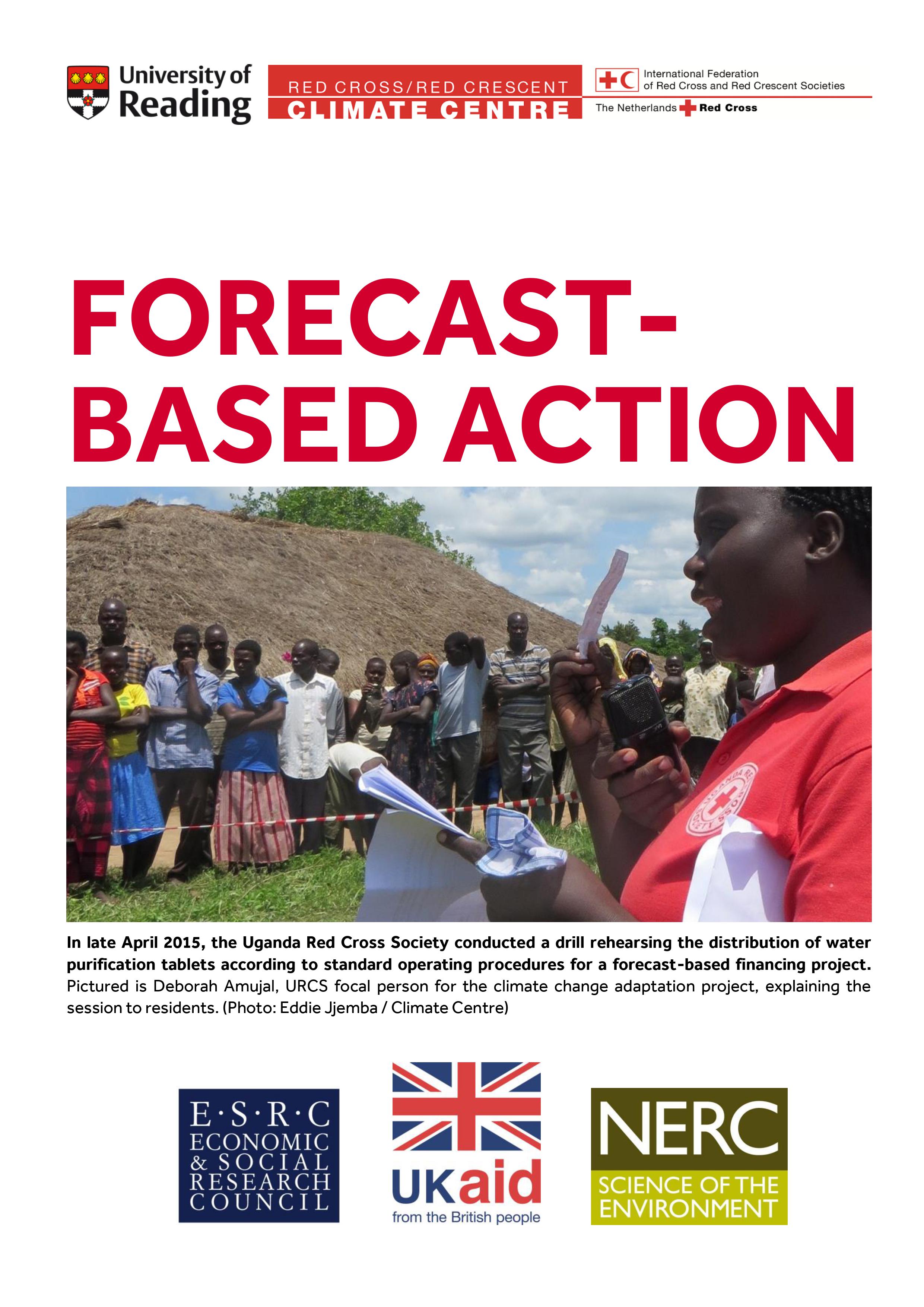 Forecast-based action
August 12, 2015
This report was produced in collaboration with Reading University and with support from the UK Department for International Development. It covers research priorities for forecast-based financing as part of the university's programme entitled Science for Humanitarian Emergencies and Resilience.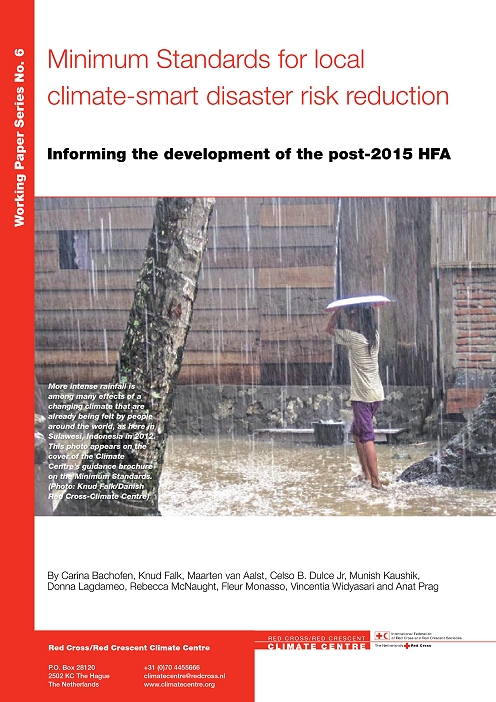 Minumum Standards for local climate-smart disaster risk reduction, Informing the development of the post-2015 HFA
July 27, 2015
This paper presents the Minimum Standards for local climate-smart disaster risk reduction and details how they can help action on climate change post-2015. It provides an overview of the standards and their relevance for guiding climate-smart action at the community level, looking at the experience of the Philippines, Indonesia, and India in the context of the Partners for Resilience programme.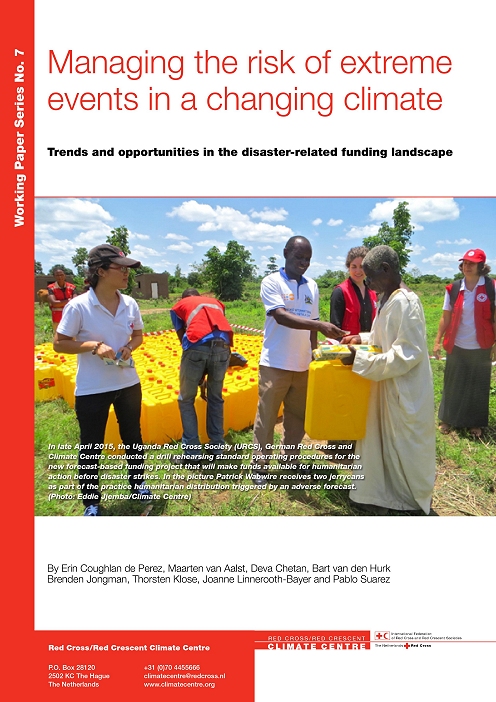 Managing the risk of extreme events in a changing climate,
Trends and oppotunities in the disaster-related funding landscape
July 27, 2015
Policy-makers must determine how best to invest disaster-related funds, given an understanding of global distribution of climate effects. This paper focuses on international and development-related funding mechanisms, building on the premise that rising risks of disaster due to climate change will require wise allocation of resources, and outlines categories of activities to which funding can be allocated.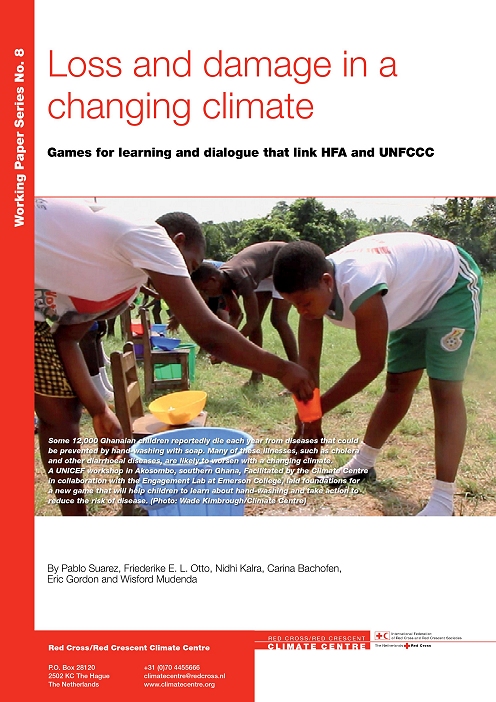 Loss and damage in a changing climate,
Games for learning and dialogue that link HFA and UNFCCC
July 27, 2015
This paper examines the role of games in improving communication and spurring learning, and improving decision-making capacity about climate risk management amongst diverse stakeholers. Among other aspects, it discusses challenges associated with communicating the concept of loss and damage and the implications post-2015.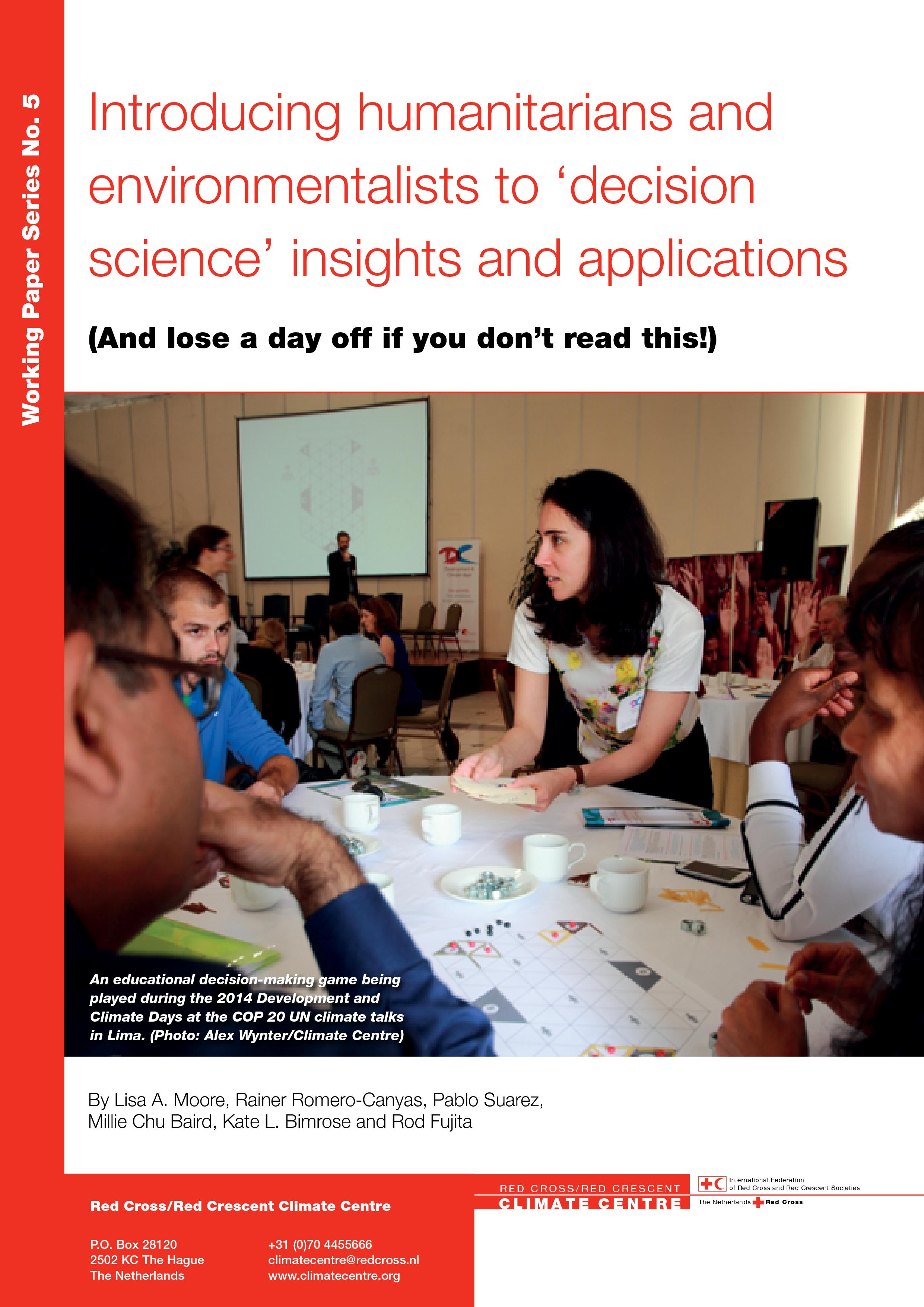 Introducing humanitarians and environmentalists to 'decision science' insights and applications
March 2, 2015
An increasing number of scientific disciplines focus on understanding how and why people make decisions and behave the way they do – issues of great significance to humanitarian and environmental organizations working on climate change, risk management and other issues. This working paper examines how decision science – a collective term for research in fields such as behavioural economics, social psychology, cognitive science and conservation psychology – could improve the effectiveness of humanitarian interventions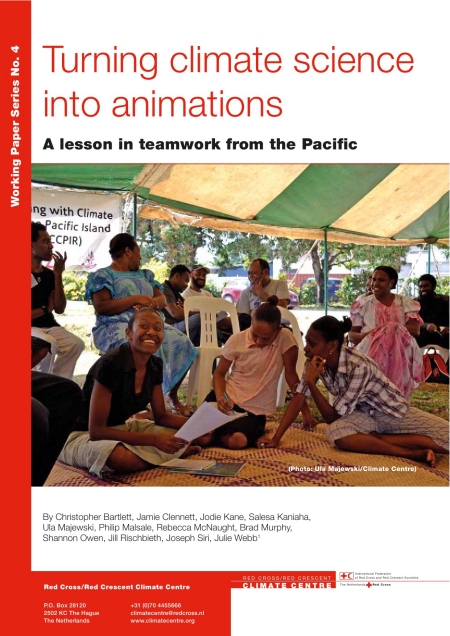 Turning climate science into animations: A lesson in teamwork from the Pacific
July 29, 2014
Two humorous animation films by an alliance of agencies in the Pacific link climate science with decision-making and preparedness. The Pacific Adventures of the Climate Crab gives an overview of climate processes, impacts and possible adaptation measures in the wider Pacific region. Klaod Nasara ("cloud meeting place" in the Bislama language) focuses on similar topics in Vanuatu and has been produced in Bislama, English and French.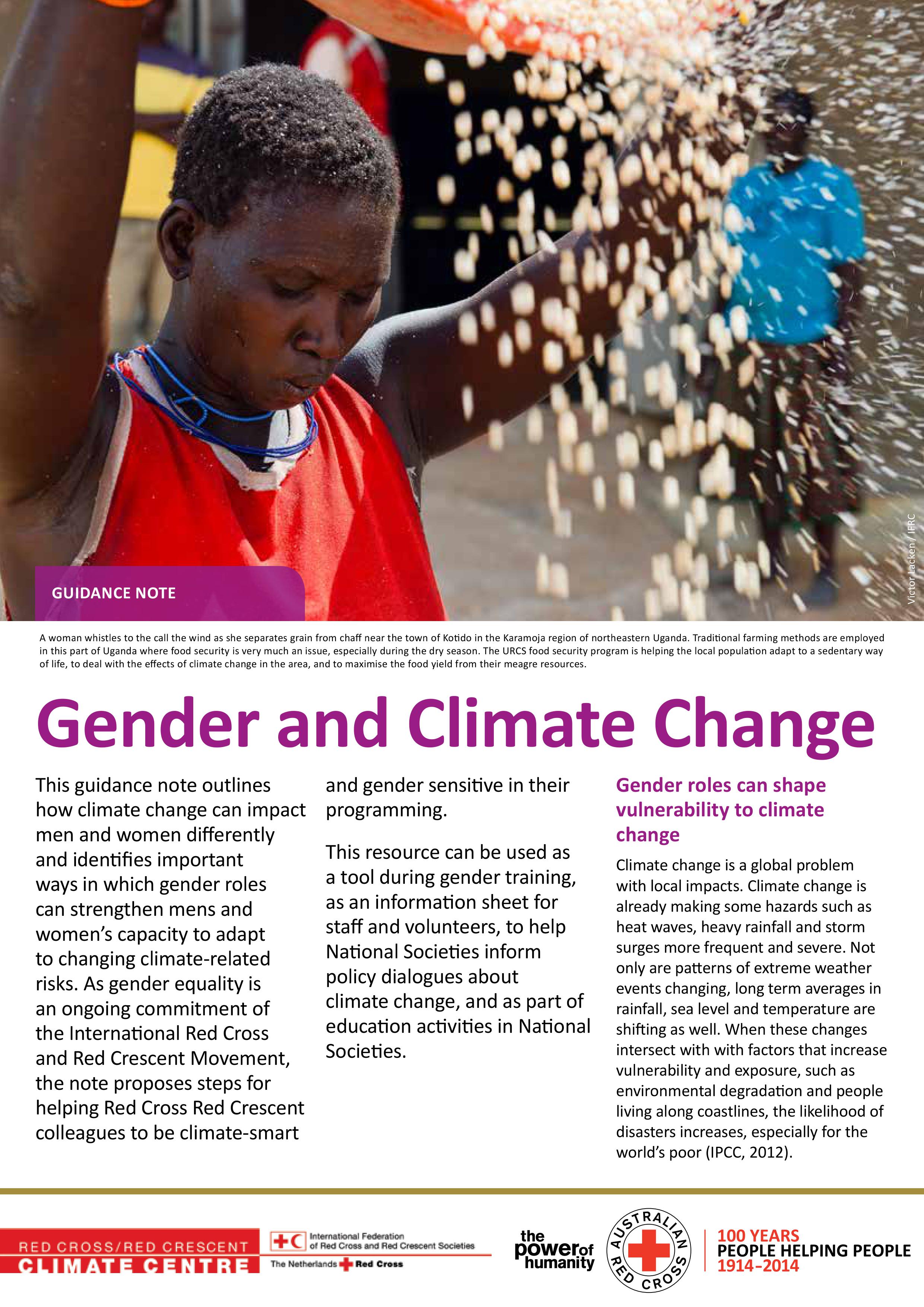 Gender and Climate Change
July 27, 2014
This guidance note outlines how climate change can impact men and women differently and identifies important ways in which gender roles can strengthen mens and women's capacity to adapt to changing climate-related risks.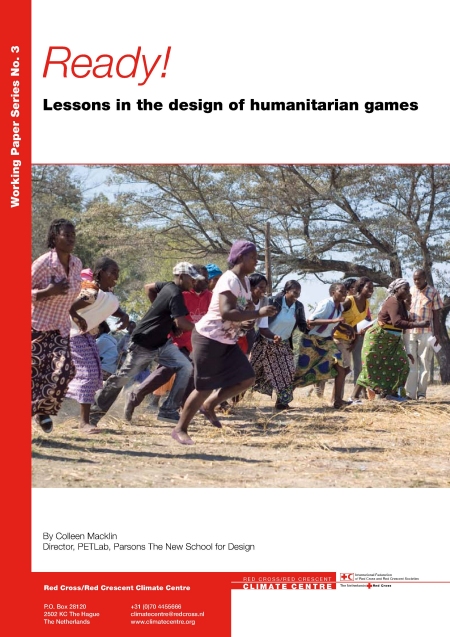 Ready! Lessons in the design of humanitarian games
February 21, 2014
This detailed look at best practice for using games in disaster risk reduction, using the example of Ready! in Namibia, documents what's been learned by humanitarian organizations, designers, and practitioners interested in the potential of games.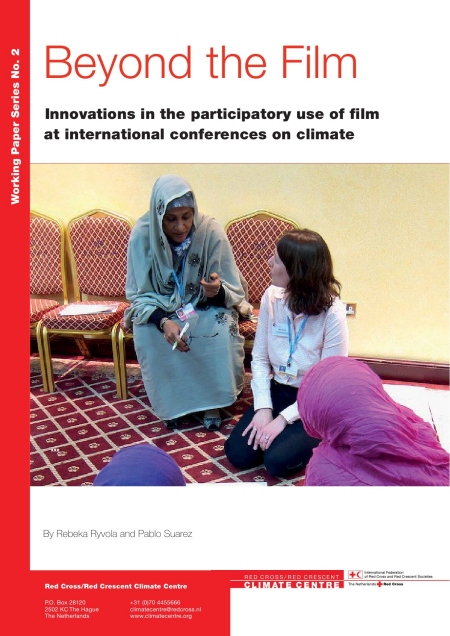 Beyond the Film – Innovations in the participatory use of film at international conferences on climate
June 14, 2013
How can film assist communication between stakeholders? This working paper argues for a "diversity of problem-solving approaches" as climate change unfolds. Film, a powerful medium, can kindle emotions and evoke changes of mind and behaviour; it offers promising way of eliciting positive changes in how we address climate change.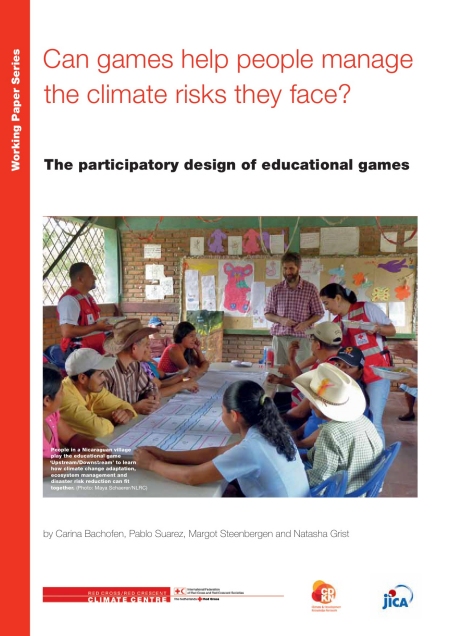 Can games help people manage the climate risks
they face?
November 6, 2012
Games with an underlying serious purpose can speed up learning, dialogue and action on climate risks, engaging people's minds and emotions, in sharp contrast to unidirectional learning through traditional lectures and PowerPoint presentations. Learn how with this working paper, the first in our series.