Act to Adapt
Description
This participatory learning game is designed for children and youth (age 12-17). It supports experiential learning and dialogue to strengthen understanding of local climate change impacts and to engage children and youth in exploring ideas on what they and their community can do to reduce climate risks, adapt and become more climate resilient. In this game, players assume one of two roles: either "community members", or "climate change". As the community team is confronted with changing climate risks, players must make individual and collective decisions to protect their community resources and capacities, as they discover the consequences of climate hazards which the climate change team is eager to inflict. From the tension which builds as the two teams strive to do their best in respective (opposing!) roles, rich discussions and strategic thinking emerge. There are of course winners… and losers.
Why this game?
- Climate change is happening and people who are vulnerable, especially poor and marginalized people, are hit hardest by the impacts
- With climate change impacts projected to become increasingly severe in the future, children and youth can be important agents of change in raising awareness
- There is a need for awareness / educational materials that support critical thinking, solution finding and inspire action on climate change adaptation.
Facilitator skill level
4 out of 5 stars
The facilitator should have a good grasp of climate change, climate change adaptation and community based disaster risk management.
Tip: The first few times when facilitating Act to Adapt, it is recommended to work together with a partner. If one facilitator forgets something, the other may assist. Once confident with the game's messages, content and dynamics, you can continue by yourself.
Intended audience
Children and youth (12-17). Although designed with a South East Asia focus, the game can be applied to any setting.
Number of players
10 to 30 children or youth (preferably of the same age group)
Time needed for gameplay/discussion
80 to 120 minutes (depending on experience of facilitator, group size, and desired level of discussion during gameplay).
Materials
Game Packet consisting of:
Tape, thumbtacks, or anything else to fasten materials to the wall or stones to fix them on the ground outside.
Dry Erase Markers (1 per player or 5-packs with different colors to share) for drawing and writing on the laminated cards.
Chalk, masking tape, string, or long sticks to make the Grid on the ground.
Means to overlay a Grid on the Community Map; e.g. String (removable) or tape/marker (permanent)
If windy: use sand/stones/beans to hold the capacity cards on the Grid (so they don't fly away)
Play space requirements
A large open space - actual size depends on the number of players:
Minimum: 3x 5m (2x 4m Grid plus room to move around Gird perimeter to place adaptations).
Maximum: 5x 7m (4X6m Grid plus room to move around Grid perimeter to place adaptations).
Setup
Upon arrival:
- Create a grid on the ground. The Grid on the ground is composed of 2x2 meter quares. The number of squares that make up the Grid depends on the number of players: see options below. Mark each square with the appropriate number card.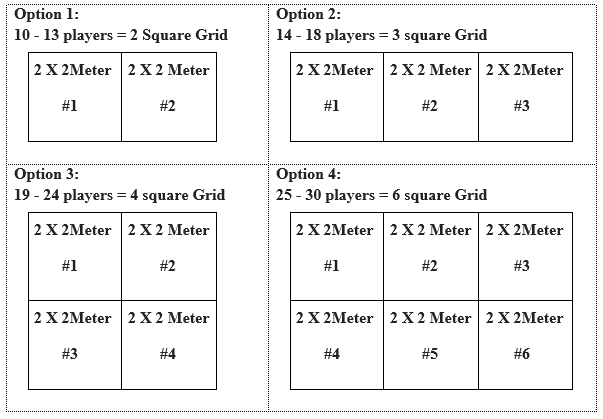 - Markt the Community Map with the same Grid that you made on the floor. Hang the Map on the wall or place it somewhere all players can see (if indoors it can be projected on a wall). Number the squares to correspond to the squares in the Grid on the ground (e.g. #1).
- Place the 7 Adaptation Category Cards in a row several meters away from the Grid. This is called the "Safe Wall"
- Prepare enough pellets for the duration of the game.
- Set aside 2 blank capacity cards per player. Based on the number of squares in the Grid, number the blank capacity cards. Each capacity card will have one number written on it. Try to balance square numbers; for example, if there are two squares, there should be about the same number of capacity cards numbered one as numbered two. If there are four squares in the grid, the capacity cards should be numbered 1, 2, 3, and 4 with as close to the same number of cards with each number as possible. Write the number on the blank side in a corner.
Game Play
The facilitator guides the players through 4 steps:
1) Learning the Content
2) Round 1 (Instruction round)
3) Game play: round 2 - 6
4) Debrief discussion
All the steps are clearly explained in the Facilitation Guide. This guide provides you with a step-by-step facilitation guidance.
Variations
Depending on the time available and the level of players' knowledge, cosider on or more of these variations:
1) Consolidation activity: Dream Village exercise (time needed: 10 + minutes).
After the debrief discussion, ask players to draw their "Dream Village". This represents their ideal climate-resilient village, in which they draw as many climate change adaptation measures as they can think of. To further consolidate lessons learned from the game, use probing questions to ensure their dream villages are protected from a wide variety of hazards.
2) Alternative scoring
For older children/youth, consider determining the winner throught the Debrief: if players (on either team) cannot adequately explain how a capacity card is used to adapt they lose the adaptation card.
For younger children consider small incentives (such as stickers) to encourage them to think about more/new adaptation measures. You may also provide reference material for kids to look through to learn more about adaptation options. See example materials here: http://www.riskreductionandresilience.com/childrens-charter-for-drr/
Acknowledgements
This game was developed with support from Plan International as a collaboration between The Red Cross / Red Crescent Climate Centre, Plan International and the enGAgeMEnt Lab at Emerson College. Centre from the Climate and Development Knowledge Network (CDKN Action Lab Innovation Fund).